Back

Xanthorrhoea australis
[ Xanthorrhoeaceae ] [ Australia ]
Native to heaths and open forests on poor, sandy soils in southeastern Australia and Tasmania, this species can form a thick trunk that can reach several meters tall and is often branching. It is usually seen charred from bush fires, hence commonly referred to in Australia as blackboy. The extremely tough and closely packed leaf bases protect the actual, much thinner trunk in its center from the heat of fires. The perfectly spherical crown is formed by hundreds of wiry, arching, bluish green leaves, about 1 m (3 ft.) long and only 1 to 4 mm across. The large, upright and unbranched inflorescence is formed eratically, usually after a fire, and can reach up to 5 m (16ft.) tall. Due to its southerly habitat, it is one of the most cold tolerant grass trees and does best in temperate regions.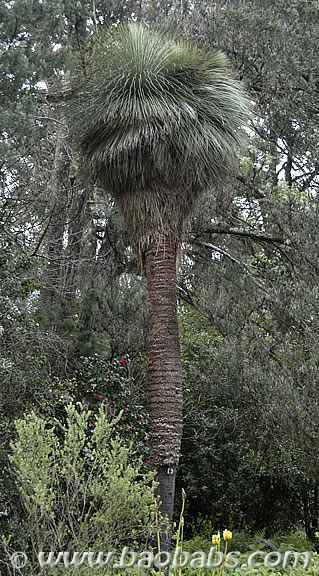 Seeds (10) : Out of Stock




Habitat

zone 10a = Winter minimum temperature -1°C to 2°C (30°F to 35°F)

Sand dunes

Subtropical

Substrate

Temperature during winter

Lighting

Watering during automn-winter

Watering during hot season

Fertilizer during growth

Pruning

Repotting


1 soil + 2 humus


Indoor during winter temperature min. from 3 to 10°C


Sunny


Rarely ( when the substrate is dry )


Regularly but without excess, and especialy during summer


Regularly but with spacing

Repot every year if possible

Archives in UK-US

Sorry No Result in this Language
Partagez vos connaissances !
Vous pouvez partager vos connaissances concernant Xanthorrhoea australis avec les amateurs du monde entier, aussi nous vous invitons à envoyer vos expériences et commentaires.
Ecrivez un commentaire concernant :

Back to List


LE JARDIN NATUREL
Saint Leu - Reunion
Copyright © Le Jardin Naturel